Smart city prospects shine on -
Los Angeles, California is taking a step in the direction of smart city innovation by implementing "smart outdoor lighting." The smart lights look like any average street light, but the technology they harbor have huge advantages. Street lights, public parking garages, walking/bike paths and even WiFi platforms are control systems that can be altered with "smart" technology. Big cities are investing in the lights because of the highly sought after easy integration and centralized dashboards.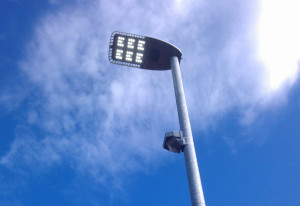 A small smart light installed along a bike bath would illuminate only when detecting motion or when set for a certain time period. Research shows that the smart systems greatly affect energy savings, which allows cities to allocate that money towards other processes. Prospective smart cities believe this is the first step in adapting a completely intelligent city process, including crowd and traffic control, waste management and parking. Implementing smart lights throughout a city can save millions in costs that can in turn go back into other smart city features.
Los Angeles has replaced their aging streetlights with smart lights and have already saved an estimated $9 million. In addition to saving money, the lights have also aided in generating a larger network capacity for wireless networks. Barcelona has adopted smart street lighting, waste management and can even alert motorists when parking spots become available - talk about intelligence!
Another witty decision for progressive city managers? Centralizing their daily tasks with an all-in-one software suite that greatly reduces the time spent on redundant activities while monitoring payments and inspections for you! CityForce is similar to smart lights in the sense that it works smarter (not harder) and more efficiently to reduce time and money spent on clerical work. CityForce is generally less than 1% of your city's annual budget - just like intelligent lighting systems, putting money into the implementation of technology ends up saving your city money in the long run!


Read more on smart cities progression with intelligent lights at Globe News Wire and check into a custom price quote for installing CityForce here! Our team member will contact you with a quick run down of how CityForce can specifically hep your city. In this world, it's all about moving forward - so what are you waiting for? Optimize your city today.