The city of Camanche, Iowa is implementing a new software system to be used by their residents, members of the community and city workers. The software will allow Camanche citizens to apply or review permits easier. Along with applying for permits, the system will include extensive information regarding property information and property tax information. The proposed price of this software is $10,760.42, according to the Clinton Herald. The city of Camanche is also excited to use the new software for tracking workers and their work logs.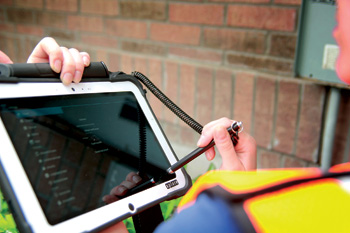 Camanche's new software is similar to what we offer with CityForce - and for cities ranging from 5,000 people to 500,000, we're the company for you.
We say you should pick CityForce not because we just work, but because we work the best and we stand behind that promise.
Our automated requests reduce support time (clerical workload) by up to 30% and our automated inspections decrease office time (increasing field time) by up to 15%. CityForce also reduces rework, by eliminating errors, by up to 50%. CityForce even saves time by having all information in one place and making searches for that information easy to do. Typically CityForce software will be less than 1% of your annual budget!
Let's break down our percentages for you: the CityForce mobile app syncs from the field back to the office, saving potentially an hour a day in travel time. Some county inspectors claim they save 2 hours or more; city inspectors maybe only save 1 hour. The Inspection Module, cloud-based with standard and customized reports that automatically populate correctly and can be emailed directly to all who need them, saves at least an hour a day. This is according to the admins who tell us they generally work with this. Inspectors cut way down on their paperwork as well, since most reports generate automatically. Our Citizen Portal, which is free to cities who use CityForce, frees up at least 30-60 minutes per day, according to office staff who don't have to do the paperwork involved in collecting permit fees, registration fees, permit applications, etc. Anything regarding a fee can now be done online!
See what our customers have to say about CityForce:
"I know another municipality that has been working with a software provider to implement their software for 2 years, and they're still not using the system. Not only were you a fraction of the price, but you guys were here for 2 days, and we're ready to go. You need to be telling everyone about this!" - Rob E., Building Official
"I was just thinking as I was issuing a contractor registration - I just want you to know that the changes that were made to allow us to issue different types of contractor registrations are working really well." - Anne W., Permit Technician
"Hands down, the three best features are the photos, the search ahead function and definitely the cost!"  -3 TN. Inspectors
---
 Are you ready to be our next satisfied customer?
You can follow in the city of Camanche (and thousands of other city's) foot steps by implementing new management software. Make it your top goal of 2018! Contact us today for an overview and price quote.