The Inspection Status screen allows you to create the different statuses that inspections can be set to within CityForce.  This is useful for ensuring that the statuses shown in CityForce match the nomenclature used by your municipality. To access this setup screen, use the main menu bar to hover over maintenance and then click on Inspection Status.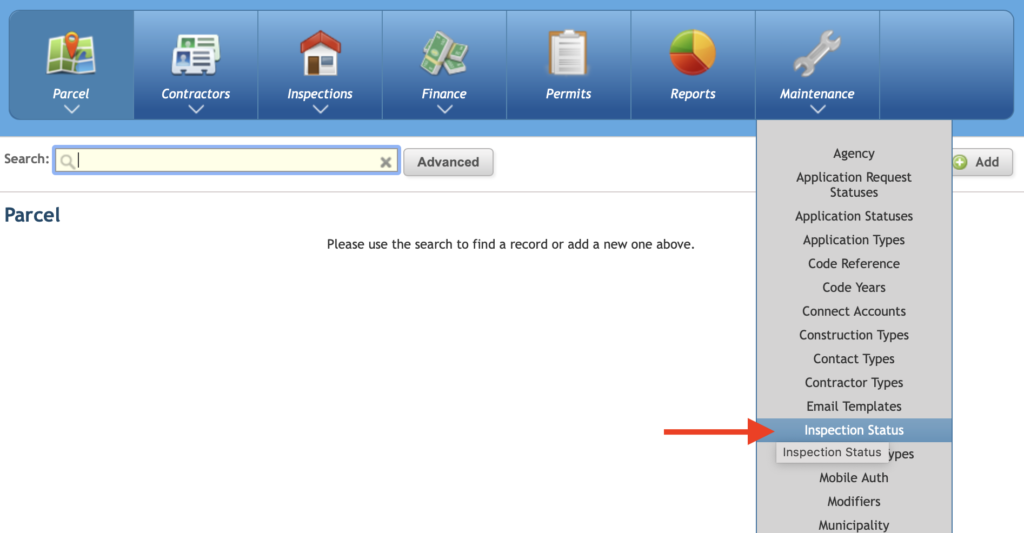 On the Inspection Status screen users can edit existing statuses or create a new status. To create a new inspection status, click the Add button in the top, right corner of the screen.
To add or edit an inspection status complete the following fields:
Status: Enter the name of the status that is used by your Municipality
Status Process Type: Use the drop-down menu to select the default system status that matches the status. In some cases there may be multiple statuses that match the same status process type. In the example above, there are two different approval statuses shown.
Description: Enter text that helps to further describe the status.
Sort Order: This determines the way the statuses are ordered within the system.
Active: When the active box is checked the inspection status is able to be able to be used within the system. Unchecking the active box will remove the inspection status from the system.
Inspection Option: When this box is checked the inspection status is available to be selected during inspections performed on the mobile INSPECT app. When the box is unchecked the inspection status is only available on the desktop IMPACT system.
After editing or adding new inspection statuses, click Save in the upper, right corner of the screen to complete the changes.